In this fast-moving technological world, people connect to their friends over the internet. Many technology-based tools have been established which are used to text friends. 
Do you want to know the best of the best apps? If so, you can access Snapchat, a multimedia messages app. It allows you to share videos, drawings, photos, etc. 
The user needs to download the app and have to create an account. People can have different accounts, so their first job is to make the Snapchat accounts. 
Then they can message people. Many features are available on this app that make you feel easy to access. 
Snapchat is considered a robust social media marketer app, and you can do online jobs by promoting the products. It gives you enough space to do what you want to do in your career and to speak up with different people constructively.
What is a Snapchat Proxy?
Proxy is a gateway server that allows you to get solutions for your queries. In simple words, you are typing something on Google or a Snapchat tool; it searches your questions and reverts you with the set of answers in a second. All devices have unique IP addresses that websites can trace while working on the user's request queries. 
So, all the data asked and getting passed via the Proxy servers before reaching the central Snapchat server. You might have three worked on the same device under the Snapchat server IP, but each request comes from different tools. 
Why may proxies not be necessary for Snapchat?
New users may have a misconception about having the same and multiple accounts on Snapchat. Getting a straight answer for using different proxies is needed to manage multiple Snapchat accounts.
If you want to access only a single account, it is unnecessary to have many proxies. If you don't work under this condition, your access to Snapchat will get blocked. So, it is better to access the same IP address of Snapchat for the same account. 
Why should you use Proxies for Snapchat?
If you are an online worker who promotes your products on the Snapchat app, you will have multiple accounts. So, it is safe to use proxies as Snapchat doesn't allow you to have different accounts. 
Snapchat proxies give solutions to automate the accounts and successfully advertise the brand products online. Experts suggest you use proxy service providers who work efficiently.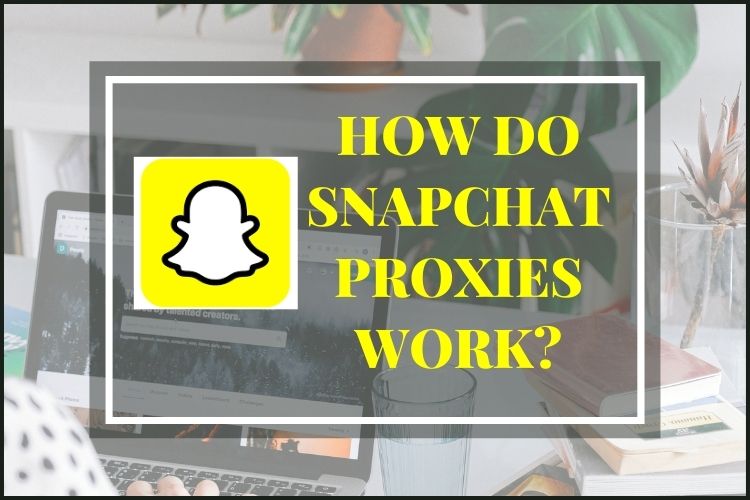 How do Snapchat Proxies work?
The work of Snapchat proxies is to hide the actual IP address. So, the Snapchat multiple users can create and manage many accounts. They can focus on gaining followers as a single account. 
But, they need to undergo the Snapchat automation process, which is quite a long process for Social Media marketers. Users can create a group, send ads, and earn money from an easy process.
Which Proxies are best for Snapchat?
Many proxies are available; you can select micro leaves suitable for Snapchat.  
On the other hand, private proxies are more helpful if you look for high performance and great speed. The mobile proxies contain the actual IP addresses, even your work on different devices. So, depending on your need, you can select the server. 
How to manage multiple Snapchat accounts?
Do you search for a way to manage multiple Snapchat accounts? If so, then get this information. First, you need to use only the Dual app on your smartphone. Second, you can access the third-party app, which allows you to have two accounts. 
Then you can shift to the IP address of a particular ID by undergoing log-out from the existing page and logging in to the desired page. The Snapchat bot is a program that helps you reach the Email address you have attached to the particular account, but you need to be careful during work with the bot. 
How to make money on Snapchat using a Proxy?
Snapchat is also a social media tool that gives excellent followers list if you use it constructively. Many affiliates have been working on it as they quickly gain viewers and leads through this tool. 
Affiliates can Charge for shoutouts and elevate their sales. It increases your sales; if you help other online workers by supporting them on your site, they will help you get leads. In this way, people can sophisticatedly Promote local businesses and earn unlimited money. 
Affiliate marketing and Snapchat Proxies:
In other Social Media sites, some restrictions are present for the affiliates. However, as they don't see the problematic features on the Snapchat app, it is more helpful in promoting affiliate products like digital books, music, film, and physical effects. 
So, Snapchat is an excellent platform in which you can do Affiliate marketing engagements. Also, it helps to create a colossal affiliate network among your team.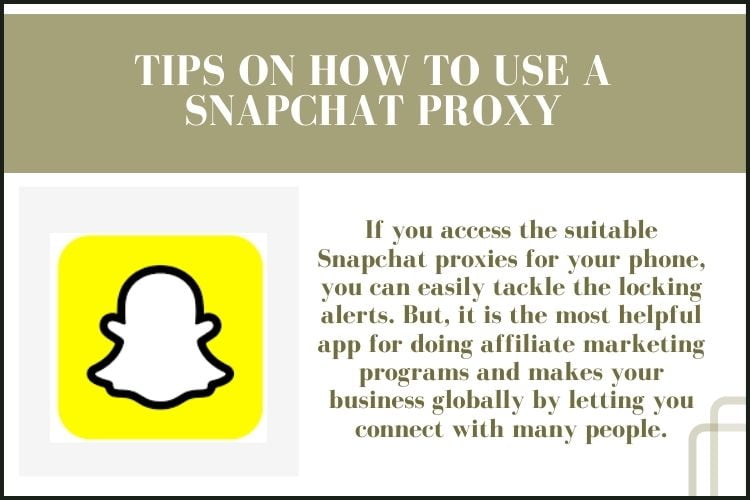 Tips on how to use a Snapchat Proxy:
As you have seen, you need to log in and log out on the app but must not access the spot system often. You will get a message like your account is temporarily locked if you don't. In this case, you can't manage multiple Snapchat accounts. 
But, you can shift different pages on this app until it gets unlocked by itself. If you access the suitable Snapchat proxies for your phone, you can easily tackle the locking alerts. But, it is the most helpful app for doing affiliate marketing programs and makes your business globally by letting you connect with many people.
You can now understand how to choose reliable Snapchat proxies for your mobile. Kindly ask you to have a legal Snapchat account for doing affiliate work. 
You can suggest that the proxiesforrent proxy service provider team select the right one as an offer. You can also read books before you step into it, and then you can make leads and do affiliate work considerably.