The internet has made it easy to feed and retrieve any data from any corner of the world. Online surfing has made it possible to study, work, play, and do anything anytime and anywhere. What a pure relief, right? Maybe not! 
It is so because if you can access any fed data, even hackers can trace internet protocols. Resultantly, hackers can misappropriate an IP address or misuse relaxations on bypass restrictions. Thankfully, socks and proxy can help to create a strong wall between the users and the misusers. 
Now, things like what, why, how, when, and other ample questions about proxy servers would come to your mind. Socks5 is the latest version or better version of socks used to keep data safe during internet calls or other business exchange activities. If you wish to protect your secrecy, then you must read till the end.
What Is a SOCKS Proxy?
The sock's meaning can be understood from its full form, i.e., Socket Secure. It is like a third party or a messenger that passes communication from one user to another. Also called Socks proxy, it is a firewall that receives different types of requests via P2P sharing, HTTP, HTTPS, POP3, SMTP, and FTP.
A Socks proxy service creates a wall-like thing called TCP or Transmission Control Protocol, UDP or User Datagram Protocol, and SSL or Secure Sockets Layer. They help to ensure a risk-free usage of the internet for any purpose.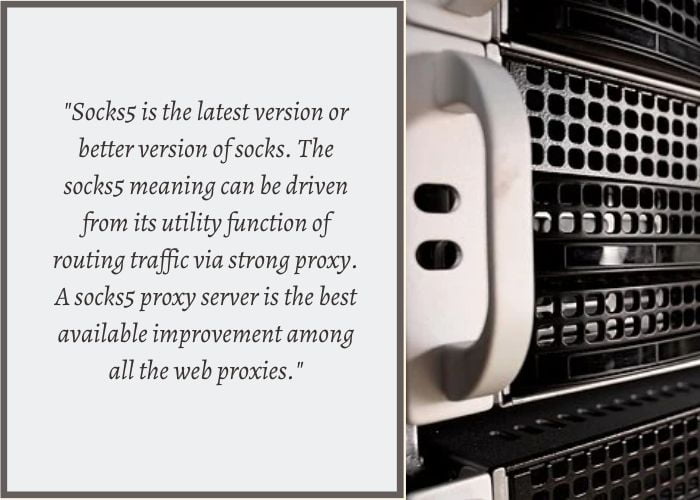 What is a Socks5 proxy?
The socks5 meaning can be driven from its utility function of routing traffic via strong proxy. A socks5 proxy server is the best available improvement among all the web proxies. Umpteen people use socks5 for torrenting, safer P2P server, and to secure online connection of all types. This server protocol is known to support UDP traffic. Socks5 proxy list is so wide that almost everybody can benefit from its usage.
How does socks5 work?
A socks5 proxy is an internet protocol that works by routing the sender and the receiver's packets with the help of a proxy server. Walls like UDP and TCP are created in the process to prevent the entry of any server other than you and your end client. It can encrypt traffic and facilitate anonymous web browsing. 
We may take an example to understand the working of a good socks5 proxy. Using Socks5 means that the server's original IP address stays undercover, and a random address is displayed during the transmission till you reach your destination client.
What are the authentication methods of SOCKS5 Proxy?
The enhanced security feature of the socks 5 proxies is credited to its careful modus operandi. It has three specific types of authentication methods as below:-
Null- No authentication is needed to connect to a proxy.

Username/Password- Predefined login details are needed for a proxy connection.

GSS-API- Verification of the users, is needed to facilitate a direct proxy connection. 
This SOCKS protocol is what makes Socks5 the best and the safest server so far.
What are the advantages and disadvantages of Socks5?
Both professional and personal works have experienced significant benefits by using a Socks5 proxy. A few to mention are:-
Eases Setup – Long or complex installation methods like VPN are not required. Hence, it is easy to get Socks5.
Enhances Performance – Misrouted connections or mistyped data does not have a place here. It does only what is required by the server. Hence, the performance improves.
Protects Privacy – The user safety is enhanced as Socks5 can hide IP address

whenever commanded.
Reduces Mistakes – Rewriting packets is common with other proxies that delay deliveries. But Socks5 cuts on errors and delays.
Widens Scope – Other proxies are usually restricted to HTTP addresses only. But Socks5 can cater to torrents and P2P

besides several other connections.
The disadvantage reported by some users is that it is prone to online data theft, virus, or spamming. One may consider not disclosing sensitive information over dubious portals.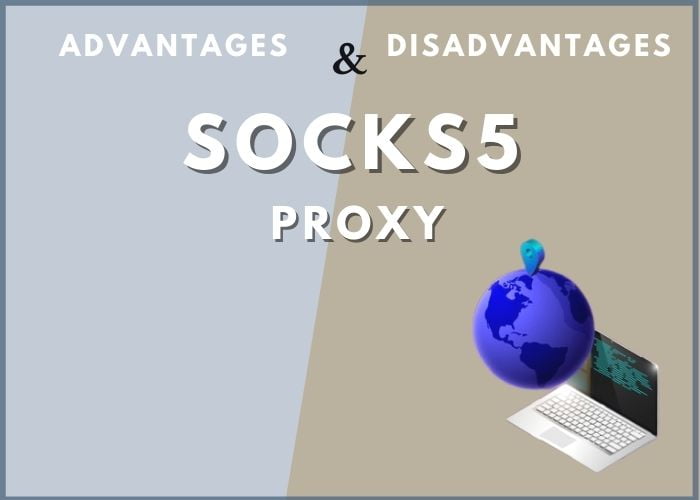 What Is socks5 proxy used for?
The ample plus points make sense for why people use SOCKS proxies. Some of the top usages are:-
Bypass Restrictions – Except for the national firewalls, Socks5 helps break into restricted HTTP and HTTPS connections.

It routes the blacklisted IP for a better reach.

Faster Operations – Speed and time are the essences in today's time. Socks5 accelerates work by using TCP, UDP protocol,

and other error eliminators.

Stable Connection – One of the prime benefits of using SOCKs5 proxy

ensures a stable and reliable connection. The user does not have to face repeated crashes.
What is the difference between Socks5 and HTTP?
An http or socks proxy cannot be taken to one thing. Look below to get a quick explanation of SOCKS5 vs. HTTP.
Function – HTTP proxies

are limited to HTTPS and

HTTP protocol.

But

Socks5

does not have such limitations, rather supports ample protocols. 

Speed – Socks5 proxy wins over http.
Secure – Socks5 is the latest and safest invention.
Socks5 https client-

Socks5 cannot read client-server data, but HTTP can.
What is the difference between Free Proxy and Socks5?
A free proxy might be tempting but can be risky. The difference between the functions of free and Socks5 proxy will explain the things.
Hampered Performance – Some free proxies may talk about a P2P server

but do not work in the long run. They slow down with time and may not support all features.

Endangered Privacy – User surfing can be monitored and sold to third parties by free proxies. But Socks5 secures proxy server IP port.
Exposed Risks – Free proxies are unable to restrict viruses from torrents downloading. Contrarily, socks proxy torrent can prevent such threats.
Why is it optimal to invest in PROXY SOCKS5?
Bypasses restrictions

Quicker than VPN
Enables a fast set up
Can configure easily
Error-free and high speed
Ideal for torrent and P2P
Affordable to buy socks5
TCP and UDP protocols

ensure a stable connection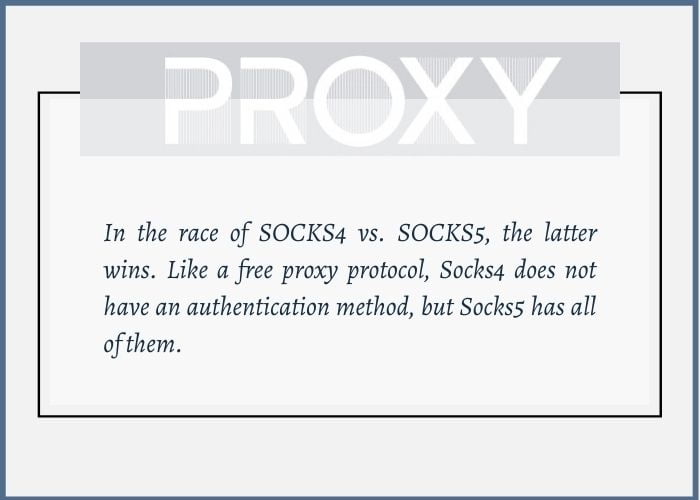 Conclusion:
The features mentioned above and pros clarify why Socks5 is a reliable proxy server.  By providing an uninterrupted UDP connection and secure better online connection, it is justified to label it as the best Socks5 proxy.  It might be a cheap sock5 proxy in price, but countless people applaud the Socks5 proxy provider for smooth and safer business operations. Get your Socks5 proxies at Proxiesforrent to get a hassle free browsing experience.

FAQ
What are the types of Internet protocols?
The top three protocols are ICMP, TCP, and UDP. Socks5 incorporates TCP and UDP that keep in check web scraping as and when required.
What is the difference between SOCKS4 and SOCKS5?
In the race of SOCKS4 vs. SOCKS5, the latter wins. Like a free proxy protocol, Socks4 does not have an authentication method, but Socks5 has three of them.
VPN vs Proxy: What is the difference?
VPN encrypts data, but a proxy lacks this feature of

data encryption.

However, an efficient

Proxy server

like Socks5 can hide your

IP address.
VPN is known for data scrambling

due to its encryption feature.
Should you use a free proxy?
It is suggested not to use free proxies as they are risky and performance-inhibitors. They are unlikeable as same as VPNs, for lacking stability. Free proxies do not offer configuration options the way a proxy server like Socks5 does.
Should you use SOCKS5 with a VPN?
One may get confused between VPN and proxy. But knowing the difference between proxies and VPNs may help to decide. VPNs encrypt, but proxies do not. Proxies are stable, but VPNs are not. So, you may club them as SOCKS5 VPN proxy.