Automation on social media is nothing new. For over a decade, marketers and managers have been scheduling posts, advertisements, and other activities on Instagram, Twitter, and Facebook. With hundreds of tools offering everything from content generation, automated social media campaigns, and even follower generation, a whole ecosystem of social media services has popped up online. One of these methods is Jarvee, most widely used for Instagram. With Jarvee, it is easy to handle and automate any number of Instagram accounts.
What is Jarvee?
Jarvee is the most popular software that can automate an almost infinite number of Instagram accounts. Jarvee 's settings will let your automated accounts remain under the radar when used with a good Instagram proxy network. Linkedin, Tumblr, Pinterest, Facebook, and Twitter accounts can be streamlined by Jarvee, in addition to Instagram.
What are the features of Jarvee? 
① Not only Jarvee work with Instagram, but with Facebook, Twitter, and YouTube as well. If you wish, you can also use it for Pinterest, Tumblr, and LinkedIn. It is a wonderful method for those who try to uniformly build multiple social media networks.
② Unique features of Instagram include following, follow back, unfollowing real targeted users. Auto repost, Auto like delete, and comment post. It also facilitates research into hashtags, user research, and the ability to handle direct messages.
③ Followers who do not pass the filters you set up can be blocked so that they can no longer communicate with your account. There is a dynamic feature for hashtags so that you can automatically circle your hashtags to make your posts even more available. For improved security and privacy, there is proxy support. If they pass your filters, a number of likes, and comments, you can automatically save posts from specific users.
④ An added bonus is that you can import data from other instruments to make the transition to Jarvee simple and take advantage of its automation software. Plus, you can customize all of your messages and posts using the spin syntax. This feature is planned to save you time while making you become more authentic as well.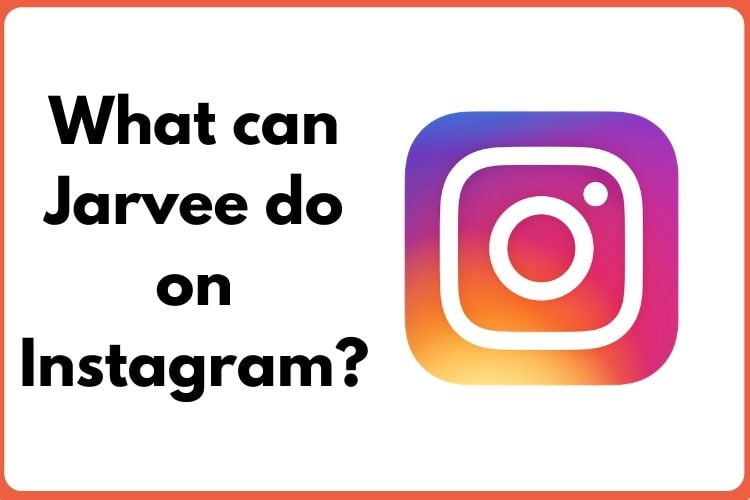 What can Jarvee do on Instagram? 
Using Jarvee may seem more complicated at a glance than simply handling a social media account manually. However, your accounts can take a life of their own once you click around and configure the settings you need and start increasing followers, gaining and giving out likes, following, and unfollowing users.
For every feature on Instagram, Jarvee has settings, so you can precisely automate your account. The pace and regularity of behavior is one of the most significant features that Jarvee has for Instagram and other sites. That's what makes it better than almost every other tool.
Jarvee is a social media bot that's as close as you can get to a true social media manager. Jarvee is highly flexible and the only constraints it has are the ones you create. Jarvee will behave like a real human on Instagram if your settings are fine. To simulate a sleep schedule and avoid detection, just don't forget to set up an inactive period.
Using Jarvee for Instagram for success
Although Jarvee can improve your Instagram comments and followers, the social media site is also good at detecting bots. The more your tricks are applied, the greater the obstacles you will face. Therefore, if you have more than four profiles with the same IP address on this network, you'll end up in trouble. Even if you are using proxies for the account, your problem will not end. An appropriate way of using Jarvee for Instagram is to use a proxy that is registered with the ISP.
What's more, Jarvee is one of Instagram's cheapest automation tools that you can use effectively and increases the ability to quickly automate each of your IG accounts. You need to access bots with new and enhanced features in the online marketing environment, where any change takes place very quickly, to achieve success.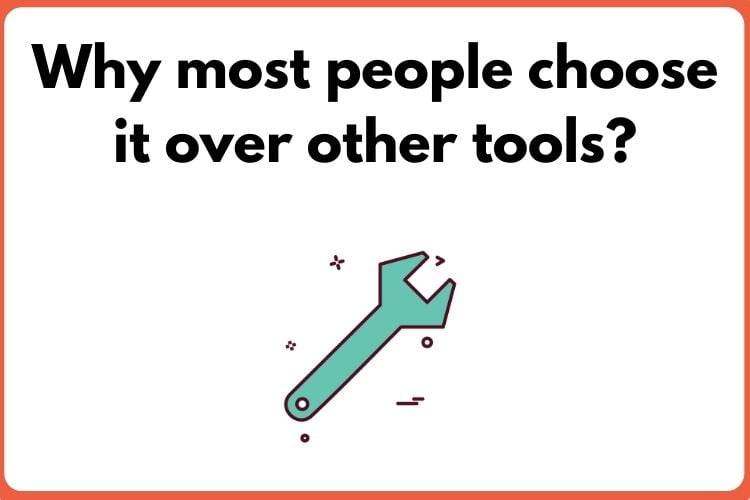 Why most people choose it over other tools?
① Unlimited account automation – Without being detected, you can literally run hundreds of automated IG accounts on Jarvee for different niches. You will need a reliable Instagram proxy network to avoid being detected, but the extra cost is well worth it, as your accounts will automatically continue to expand.
② Versatile actions – Since the settings of Jarvee allow you to automate the growth of viewers, actions, comments, and followers, it leaves all other IG automation tools in the dust. The time and frequency settings added to allow you to make each account special and highly human-like.
③ Thought out design – Jarvee 's Instagram team definitely know what they're doing, because every setup, checkbox, and the slider will offer you a little uniqueness that will render your bot undetectable.
How to use Jarvee for Instagram followers?
The theory of reciprocity states that people use it to return the favor to other people. So, when extended to social media, this means that if you follow other individuals, they are likely to follow you back. For likes or feedback, the same goes.
So looking for people in your industry and following them is a successful strategy to expand your accounts quickly. There will be a very large percentage of them following you back. You will unfollow those who have not followed you back after a couple of days. Repeat and rinse. This is something you can do manually, but it will take you a lot of time. So the easiest approach is to use the tools of JARVEE, such as Follow and Unfollow.
There are more chances that a person would follow you back on Instagram if they also like their latest photos after following you. Through our research, we found that if you like the latest 3-5 photos, or even better if you comment on the latest 3 to 5 photos, you increase your chances.
In JARVEE, let's see how to use the Follow tool to do all this:
① Go to JARVEE's Tools section and click on the Follow tab.
② Click on the sub-tab Settings, where you can customize your search.
③ Begin by setting up how much time to wait between each follows operation and how many persons per operation to follow. If you're just starting, it's more than enough to start slowly, following around 8 to 20 people per operation.
④ Now make sure you follow people, with a minimum number of posts and a bio, with a profile photo. Otherwise, you would risk inactive or spam accounts.
⑤ You may also set up a list of keywords in your bio or username to ignore people with these keywords.
⑥ Next, set up a search tool for people who have posted within the last 30 days, and exclude private users.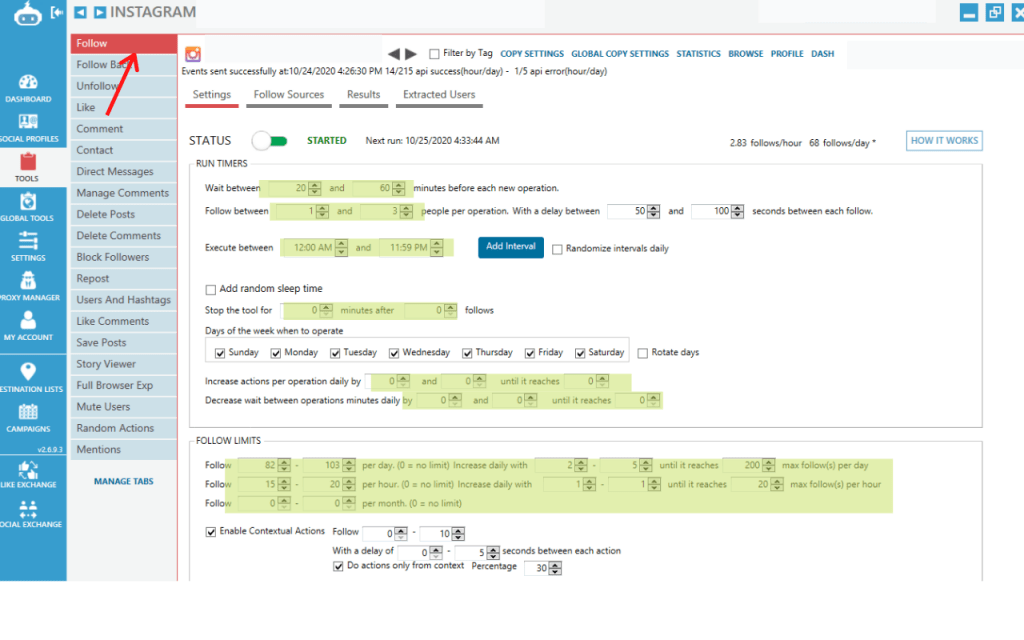 After following it, you can set up the Follow tool to like the latest posts and leave a comment on the last post. This will raise the chances that you'll be followed back by the user. But, make sure that you use the spin syntax to get the comments creative so that they don't appear too spammy.
① You need to go to the Follow Sources tab after you have worked out all the settings.
② You may pick a tool here to scan for persons to follow.
③ You can search for keywords for people, or you can target followers or followers of particular accounts in your niche.
④ You may also target individuals who follow your own followers or simply add the accounts you want one by one to follow.
⑤ Another way to look for people to follow is to target people who communicate with the posts of certain accounts and, eventually, depending on their position, you can follow people.
⑥ You don't need to use any of these strategies at once. Only start with the one with which you feel more comfortable and you can later test other methods.
 After you have the settings and the sources, you should proceed on and activate the Follow tool.
With the Follow Method, the Unfollow tool works hand in hand. So maybe you'd like to start this one too. All you have to do is set up a number of days to wait to follow those people who have not to follow you back.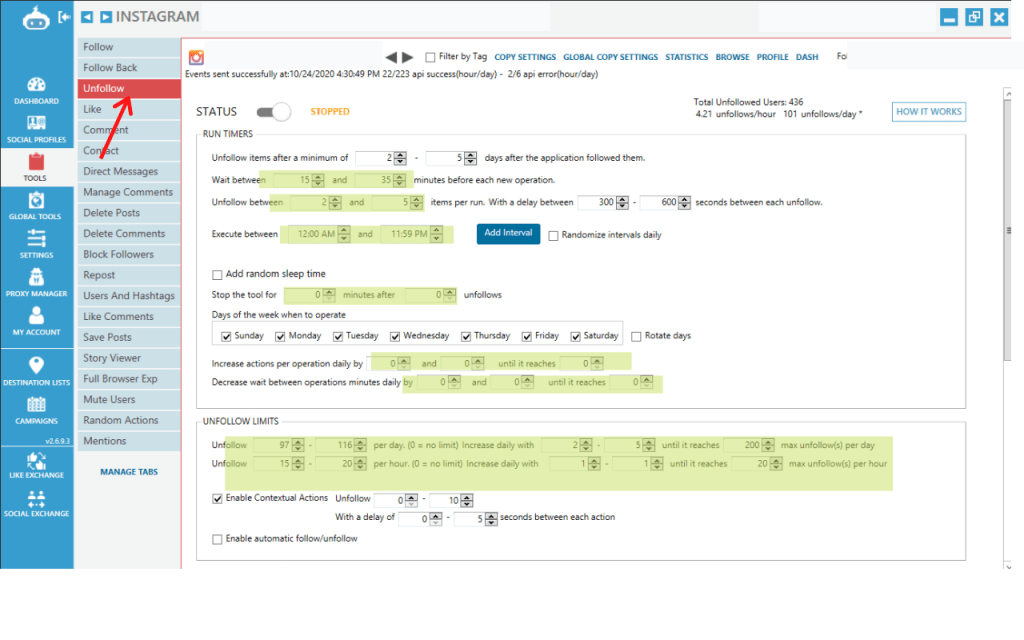 There are two other instruments that you can use, similar to the Follow tool: Like and Comment. You can search and like or leave a comment for posts in your niche. People will notice your account and check out. These tools are very similar to the Follow tool.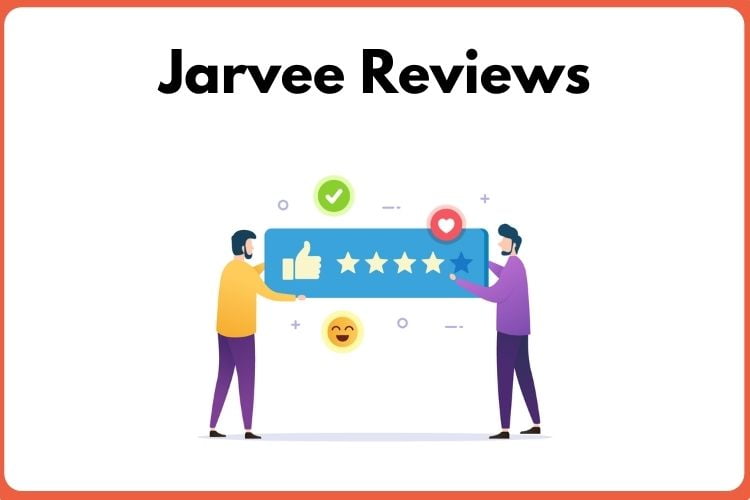 Pros & Cons of Jarvee Reviews
Pros
① As a scheduling tool, the fact that JARVEE is compatible with a range of social media sites. Instagram, Facebook, Twitter, LinkedIn, Pinterest, Tumblr, and even YouTube allow you to use this tool.
② Their premium customer support is another upside to using JARVEE. Contacting them directly from their software is simple. This is really easy if you have a question when using the software or need assistance.
③ JARVEE also has tutorials on their website that are quite comprehensive. They will take you through the process of using all the features of JARVEE.
Cons
① There are also a lot of cons when it comes to this social media automation tool. JARVEE's main drawback is the fact that it's a Windows-based tool. They recommend using it with Windows 7 or higher, for the best experience.
② When you are a Mac user, this is pretty inconvenient. You must install it on a virtual machine or a VPS running Windows to use this tool on Mac OS or Linux. If you are using this tool to save time, this can be quite a hassle.
③ JARVEE is actually a bit pricey compared to other Instagram automation software. This is mostly due to the high number of profiles that you can add and the fact that eight different social media platforms work for it. For those who do not need automation for too many accounts, the price tag may not be worth it, especially when there are plenty of cheaper alternatives.
④ You're probably not going to like using JARVEE if you're not technologically savvy. This bot helps you to have a lot of power over your automation efforts, but this means you're going to have to spend some time setting up the settings. For others, its dashboard can become a little confusing. You can get assistance from their customer service staff, but if you're short of time, it can be quite a hassle.
Conclusion
Jarvee is an Instagram automation platform that is very cheap. Its settings give you almost unlimited opportunities for several IG accounts to be automated. Even though other social media accounts can be automated effectively, Jarvee and Instagram were designed for each other. If you want to know more about jarvee click here.
Frequently Asked Question
1. How to unfollow inactive Instagram users Jarvee?
Once you have loaded your Instagram account with Jarvee, you just need to click on TOOLS, then click on the account name and then click the Unfollow button.
2. What sources should I use for my niche/account?
① Users who have interacted with accounts posts.
② Users who follow an account.