What is an Instagram scraper?
Web scraping is a technique to automatically get data from a website. Scrapers are the tools that scrape a webpage. You can get important information from Instagram's website by using "scrapers" specially developed for Instagram. So, a scraper can extract Instagram data. To know more about what is web scraping? read our blog.
How Does Instagram Scraping Function?
Web Scraping with data extraction services makes it easy to collect data from users. If you are not an IT person but need to scrape data, then scrapers can easily get information from Instagram.
‣ Number Of Total Followers
‣ Number Of Posts
‣ Information About Users
The Instagram scraper makes it easier to find out what people are interested in. This information can be used for marketing, making new products, and getting in touch with customers.
Reasons Why should you use an Instagram scraper?
Instagram Scraper makes it easier to get leads.
If you have a business, one of your Instagram goals should be to increase the number of total followers and get more leads. You need to increase the number of posts to increase engagement with the users. 
Buy Instagram proxies speed up the process by gathering all of the information about users at once.
By focusing on the audience, you can reach them and try to convince them to become possible clients.
A scraper is your best bet when thinking about how to market on Instagram.
This is why using an Instagram scraper is the best thing about it. You can use scrapped data to find good leads for your audience. Look at the comments people made on a certain post. Or you could download the information of people who follow you and with whom you might want to talk. Data scraped from Instagram automation can really help you come up with a more precise way to market it.
What type of information Can You Scrape from Instagram?
In addition to email addresses and phone numbers, what other information can be extracted from an Instagram account?
‣ Instagram Bio of the User
‣ Number of Followers
‣ Location (10% of users have country/city/street information)
‣ Instagram Username
‣ Instagram Section
‣ Number of Posts
Whether it's a company account or a personal account, Instagram is essential.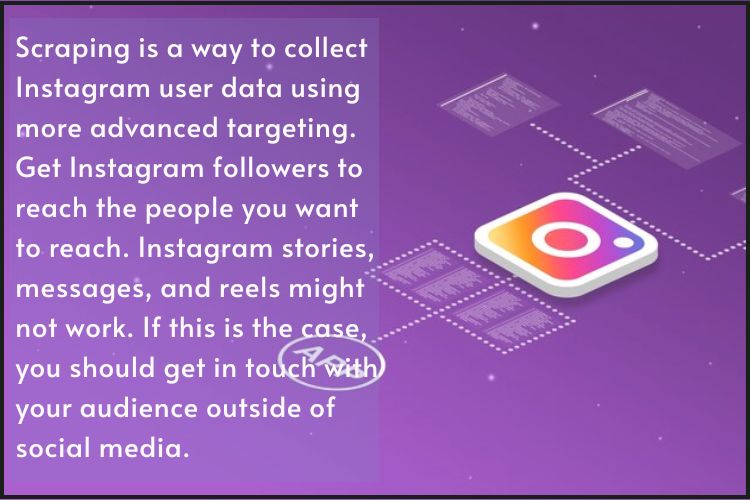 Why Scrape Followers on Instagram?
Scraping is a way to collect Instagram user data using more advanced targeting. Get Instagram followers to reach the people you want to reach.
Instagram stories, messages, and reels might not work. If this is the case, you should get in touch with your audience outside of social media. You can get their email addresses if you scrape their Instagram pages. This will make sure that the data is validated.
Why do you need more targeting?
Even if you choose your Instagram followers carefully, you still get a lot of followers who are not relevant to your business. This will definitely affect your campaigns.
About ninety million are fake accounts.
Few things are as good as what you do (no gender, location, age, or other types of targeting)
If you use email harvesting to send cold emails, you'll get a lot of "bounces."
Why is it necessary to clean the scraped data?
Web scraping adds a lot of junk to the Internet. Examples:
‣ Spam traps that end up in SPAM
‣ All emails
‣ Fake emails
This changes how you should plan:
Instagram email lists can be used for cold emails and Facebook ads that target specific groups of people.
During a cold email campaign, if you send too many bad emails, the domain of your company could be marked as permanent ban. Even emails that are not spam will be marked as spam and won't be sent.
What are the benefits of scraping Instagram?
Marketers and salespeople use social media sites like Instagram because their information is really useful. Instagram is a way for businesses to reach out to a massive audience, especially millennials.
Understanding the target market gives marketers the information they need to make good decisions and come up with valuable marketing information.
Scraping Instagram data with substantial research and localized marketing strategies that focus on the people who use or might buy the product can help boost sales.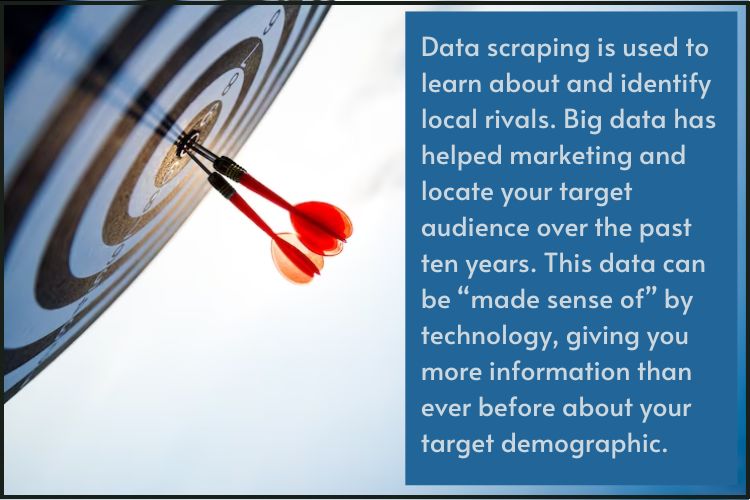 1. Discover More About Your Target Audience
Data scraping is used to learn about and identify local rivals. Big data has helped marketing and locate your target audience over the past ten years. This data can be "made sense of" by technology, giving you more information than ever before about your target demographic.
2. Update what your competitor is doing with an Instagram scraper.
Competitors give us information that we can use. You can get collect data and information from your competitors, especially if they are big competitors. You can also learn from your weaker rivals. Also, update with market trends and accordingly update your services. 
3. Learn about
➡ Posts that used to do well but don't anymore
➡ Active entries
➡ User-following
➡ Regular users
➡ Hashtags
4. Increase the number of followers
By scraping Instagram data with the help of Instagram proxies, you can identify potential accounts, get more followers and reach your ideal audience. By Scraping Instagram data for your followers and the followers of your followers, you can find new people to follow. These people might interact with your brand and become clients.
5. Consumer feedback
Companies are always looking for new ways to understand what their customers want or how people represent themselves. People use social media to show who they are, who they follow, and who follows them.
It's good for businesses. Scraping Instagram information can help figure out consumers' requirements and how people in the younger age groups behave. Because Instagram is so visual, it's easy to spot fashion and lifestyle trends like colors, styles, and more.
6. Instagram Scraper facilitates lead generation
On Instagram, businesses need to get leads. Leads are made by businesses so that their conversion rates go up. Business leads can be improved by collecting important information through scraping Instagram data. It shows how old Instagram influencers are, what they do for a living, and other information.
To save time and

prevent data loss

,

backing up your data

only needs to be done once.

By knowing your audience, you can persuade them to buy.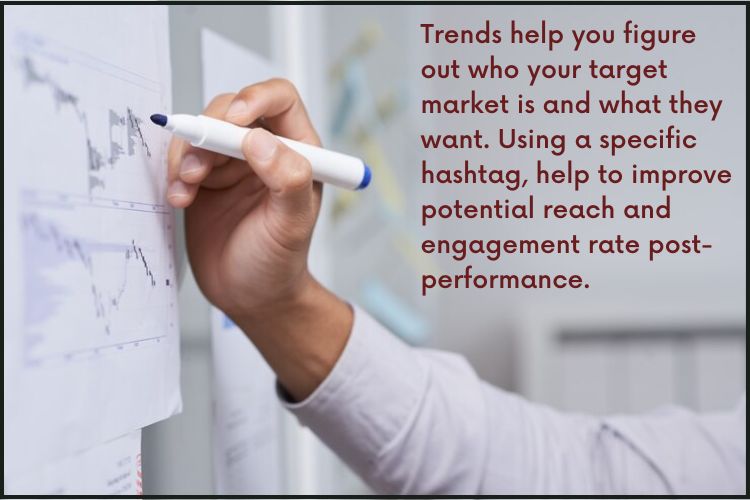 7. Determine Trends
➡ Business trends matter. What do people want to hear about? How do you get your pictures, videos, and stories to the right people? Trends help you figure out who your target market is and what they want.
➡ Using a specific hashtag, help to improve potential reach and engagement rate post-performance.
➡ Update what your competitor is doing with an Instagram scraper
➡ Screen scraping can be used to update market trends and update your services.
➡ Collect competitor data, learn from their mistakes and update customer service with the new information. It will catapult your company's growth.
Conclusion
Instagram contains numerous photographs and information about friends, fashion, and influencers. Web scraping, the automated retrieval of data from a website, makes it easier than ever for anyone, regardless of skill, to obtain this information.
The Instagram extractor from Scraping Robot enables scraping without the need for technical planning or improvement. Instagram scraping draws younger clients, making it ideal for firms in the fashion, beauty, and streetwear industries. New consumer data and experienced automatic Instagram likes enable you in growing your target audience.
If you want to buy Instagram proxies, private proxies, shared proxies, or datacenter proxies from Proxiesforrent.
FAQ
1. Is it legal to scrape Instagram?
Social media scraping is permissible if it adheres to platform guidelines. Using scraping tools, you can obtain Instagram's public data that users cannot see.
2. How many Instagram followers can I scrape with this tool?
Social media scraping is permissible if it adheres to platform guidelines. Using scraping tools, you can obtain Instagram's public data that Any Instagram account with more than 2000 followers public users cannot see.
3. Can we scrape Instagram without logging in?
Scraping tools for Instagram are 100% safe and don't need a login. Our servers scrape the software, not your computer or account.
4. With the Instagram Profile Scraper, is it possible to extract information from numerous Instagram profiles?
This program can scrape data from several profiles by putting in Username/Profile links by hand or by putting together a CSV file.
5. How can I scrape my Instagram followers' data?
You can use an Instagram scraper or write your own program. Choose your data extraction target. Then, type in the command or keyword for the program set the limit, and let the program run. Just chill out and wait for the CSV or Excel file to come up with the data you want to extract.