Automatic Instagram likes
Automatic Instagram likes sounds like a fantasy? Just assume you're doing nothing and sitting there while gaining new likes and maybe even some followers for your account. But the question is, how to gain auto likes on Instagram? Even if the likes are phasing out by IG, they continue to expand your engagement and give more visibility to your profile.
In addition to automatically liking someone on Insta, you can also request a few automatic likes for your account. One of the most influential metrics is likes as IG uses likes to comprehend the quality of content, hence likes from automated Instagram seem like a cakewalk. So, let's dive into the ins and outs of the likes of automatic Instagram and what they have to do with Instagram proxies.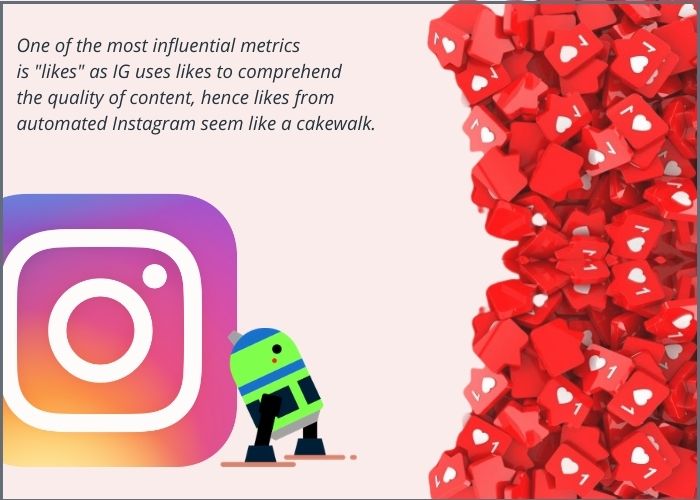 Buy likes for your Instagram account
In exchange for money, dozens of platforms give automatic likes for the account. These sites, for creating engagement around the platform typically use bots like Instagram or thousands of fake accounts. This is undoubtedly the most common method to gain likes on Instagram and no doubt the worst.
For many, selling likes seems to have become a market, and although the Insta algorithm lifts your ranking, you still cannot count on them to gain any real interaction with your account. This service is not cheap but might seem like a smart idea to some to spend money on fraudulent social media stats, but it's truly not, because you have no power over the reliability of the likes you get. And if that wasn't sufficient, Instagram wipes out public likes so the likes you bought might just end up pointless.
Instead, you must set up your own account to automatically like other profiles on Instagram, besides your own likes won't cost a penny. Any account you like will receive a notification, so the automatic likes you give are still a powerful tool for raising engagement and visibility on your account.
How to set up automatic Instagram likes?
You certainly know it is possible to set up automatic likes in a few seconds if you use good Instagram automation software.
Your account will automatically start hitting the 'like' button on any post that matches your criteria if you do this in  Followliker or Jarvee.
This approach allows you to set up your account to just certain hashtags on post or IG of individuals who follow particular influencers.
How you automate your likes on Instagram is entirely up to you, but do remember that if the 'like' icon is abused, the app will issue an action block to you.
That turns out you can't like an infinite amount of IG posts, you, therefore, need to manage those likes.
You can set it to detach from Instagram for about 6-8 hours.
Real users need to sleep, after all, so your Instagram auto liker requires you to sleep.
You need to do this or else the platform will grasp that you are taking the help of a bot.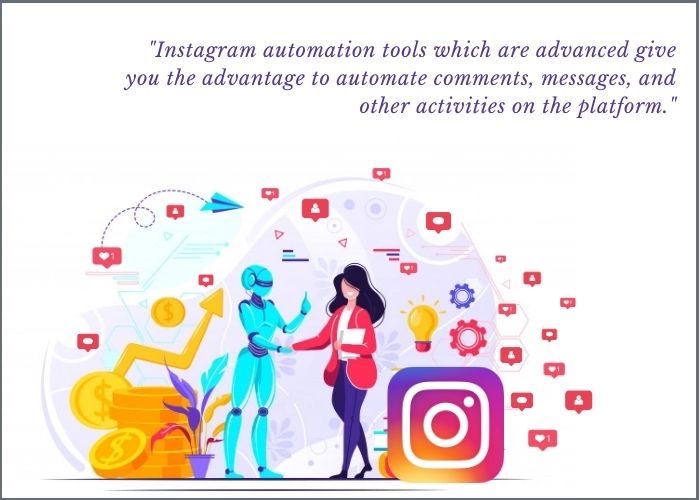 What more you can automate using an automation tool?
Instagram automation tools that are advanced give you the advantage to automate comments, messages, and any other activity on the platform. 
That indicates for new likers or followers can set up automatic messages.
Using a Jarvee tool, you can function your Instagram account as an automatic auto liker and it will follow your influencer groups, will post comments on targeted posts, and even post related content that you have previously set up.
This is a fantastic way to add a lot of attention to your goods, business, or develop your online awareness.
All this is well and healthy, but what if there were something extra to automatic Instagram likes? One more megaton, to be precise. 
How many Instagram accounts can be automated?
Instagram automation just like any other automation, helps you to scale up your social network presence to an infinite extent, this means that you can operate an unlimited number of automatic Instagram accounts.
Yes, you are reading it right, unlimited accounts on Instagram.
You will be gaining a considerably wider audience as soon as you are up and running a list of IG accounts.
To target particular niches or groups of audiences, you can utilize separate accounts.
Even for marketing your products or business, you can make your separate influencer account.
However, all this discussion about multi Instagram accounts depends on a single factor that allows you to slip past the mechanisms of Instagram bot detection, the network of proxies. 
You will be prepared to open your agency for Instagram marketing with an entirely automated pool of Insta accounts if that's what you plan to do.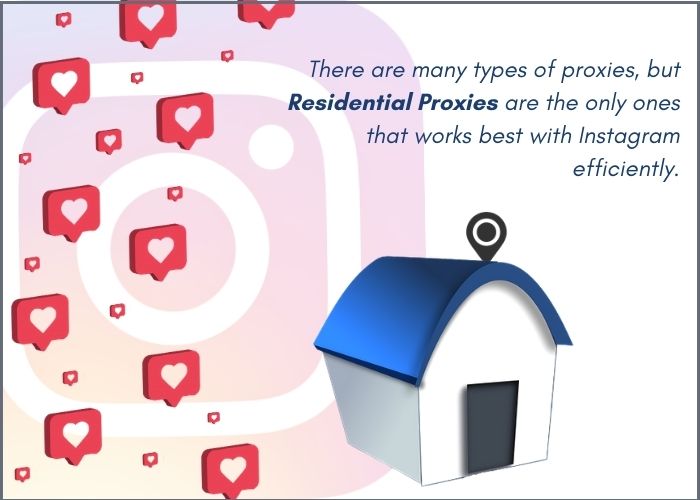 How do residential proxies help with Instagram's automated likes?
IP addresses are tracked by Instagram for all connections to their services.
And, if more than 3-4 accounts are managed by you or your Instagram bot then your list of accounts might get block or banned by the IG algorithm.
You need to have different IP addresses for each account to shield yourself from bans while automating likes on Instagram to scale.
Consequently, for your accounts, you need a powerful Instagram proxy network.
Proxies are servers that hide your IP address from all of your connected websites or services.
There are many types of proxies, but Residential Proxies are the only ones that work best with Instagram efficiently.
As residential proxies, IP addresses have ISP (Internet Service Provider) information connected with them, so this gives them a huge benefit over all other proxy servers.
This ISP association lacks in other proxy servers and Instagram is excellent at identifying and banning their IP addresses.
Conclusion:
In this dynamic business world that relies heavily on internet-based platforms and direct engagement with clients and customers than ever before, an important opportunity is tossed away if not taken full advantage of trending social networking sites. If you have decided to automate likes for your multiple Instagram accounts or if you are now using an Insta bot, try out Proxiesforrent robust residential proxy network for more effective results.
FAQ
How does a business benefit from auto likes?
In addition to the statistical model of growing brand value through auto likes and comments on Instagram, this service provides other benefits for increasing the visibility of a business online:
This helps you to spread your brand over the internet, the more people see and understand it, grant it authority, and entrust it with credibility.
Individuals are more probable to choose a product that other people have engaged with and also suits their lifestyle, and that impression is strengthened by social media post engagement.
It helps to further promote the best-selling items, which in return introduces customers to other products and services that are available.
Clearly demonstrates a fun, likable, and also severe aspect of your services.
Why switch to a subscription service for automatic likes?
It's time-consuming to come back post after post to buy likes, and not cheap but also confusing. And that why you need a subscription service. Your website is monitored by an Instagram auto-like subscription program and delivers auto-likes as soon as you create a new message. All you need to do is upload — the rest is taken care of by the program. With every post, a company can observe their likes rise, and views and followers will increase significantly. As an outcome, there will be more possible exposure than ever for your business, products, and services.