Yes, Proxiesforrent has increased its reach to European nations as well. We have built our networks leaving no tables unturned and have availed the private proxy services to almost every prospective country where the demand for proxies has risen. With so many new restrictions and limitations by other countries on the access of their web content, it is getting harder and harder for people based in other countries who are restricted by geographical barriers set.
Private proxy for France Proxy locations
Private Proxies are referred and recommended to be one of the top anonymous and secured proxies which are fast and support the utmost flexibility. As with private proxies, only one user gets one unused IP address which is not shared with others, there doesn't stand any chances of other's activities hampering your transactions on the web.
With the Private proxies used as a residential proxy, we provide you with a wide pool of different location-based IP addresses which can help you to mask your original IP or use an alternate IP address with complete anonymity and authenticity. 
We not only provide private proxy in France but we also provide Proxy IP locations for France and other European countries. Our private proxies could be effectively used as your France proxy to divert your location and access all the geo-based restricted content or another kind of limitation with complete ease.
Your next France proxy should definitely be a private proxy in order to scrape the web-restrictions with complete ease and utmost performance.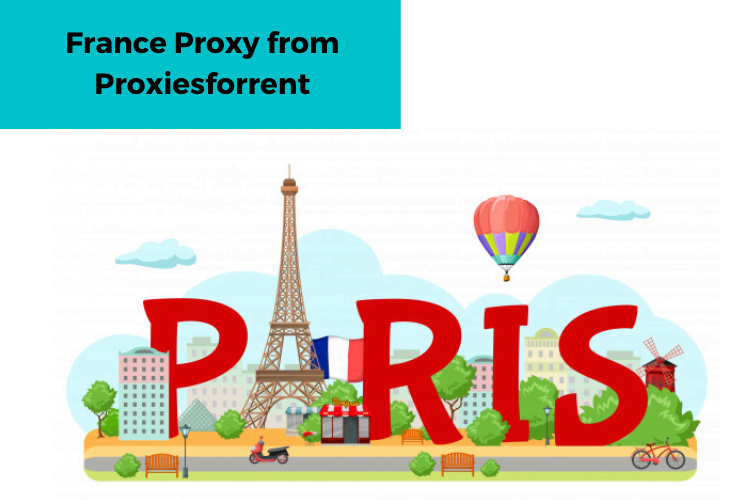 France Proxy from Proxiesforrent
We have increased and gone beyond our boundaries to provide our private proxy services in the European countries as well. We offer our premium private proxy services in Paris, France with the same quality and features we are known for in other countries as well.
Our Private proxies are known for their anonymity, speed, authenticity, and seamlessness offered with unlimited bandwidth and threads that would help you to browse through the restricted content with complete ease. We also offer the utmost speed for proxy connectivity of over 1 GBPS.
Our private proxies also support all the protocols including HTTP, HTTPS, SOCKS 4, SOCKS 5. Our private proxies will also offer you the utmost freedom to run any kind of software application that could cope up with the proxy server.
We only promote reliable and secured private proxies, being the reason, we run regular software checks on our proxy servers and check IPs every 15 mins. We keep it so anonymous and secured that your Proxy IP supports white hat services and it never gets tracked or black-listed on the internet. Also, our wide pool of different anonymous and authentic IPs keeps on adding with a new IP every 60 secs.
Through our private proxies in France, you would be able to perform all the activities on the internet be it, market research, social media networking, and retail platforms. Our Private proxy services are also capable of supporting you with Verizon, AT&T, Comcast, Century Link, and spectrum ISP services.
So, what are you waiting for, Contact Proxiesforrent today and avail of the best offers on Private proxies for France at the most reasonable rates possible?