July 5, 2019
---
Surfing on web through google chrome can be a place where you can find anything you're searching for. Though in some instances you might face limitation or restriction to access to that particular website. Some websites may restrict some set of users to access their information.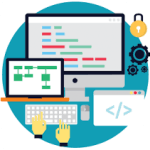 There's a easy solution to this, as proxy servers can be used to changed the original IP with a proxy IP to mask the original identity. This allows you to surf on google with complete freedom and access al the restricted websites easily.
Though there might be some cases that your google chrome is showing a proxy server error and making you unable to search what you're looking for. And if it is not fixed, you might face a permanent error and you would be unable to surf your desired website.
There can be five different and effective ways to sort or troubleshoot these proxy error problems –
Go back to early windows version – If you are facing a proxy server error and you've recently updated your older version to Windows 10, then go back to the older version in settings, where you'll find an option of restore the older version of your PC's operating system. There are some proxy related issues with this version of Windows 10.


Deactivate VPN – If you're using VPN services and at the same you want to user proxy services, then you'll face this error as both the services cannot be used at the same time. You must deactivate VPN services in order to use proxy services.
Resetting back to original settings – There might be situations where user mistakenly disables some of the proxy settings with the chrome settings which can be the reason of the proxy server error visible. You have to change your settings back by calling the chrome support technical team to restore the settings again.
Removing unnecessary data and software – There can be some malicious files and malware which might be causing the proxy server error. Users should uninstall all the unnecessary files having the tendency to affect the incoming and outgoing of communication of proxy server with google chrome.
Install Java again – Reinstall Java on your system if you don't find it in your system or it is corrupted. This might be the case because the Java has not be set with appropriate settings. You ca resolve this proxy server error by reinstalling Java with correct settings.
Even after this, you're not able to fix proxy server error problems with google chrome, then you should contact the chrome technical support to fix this error.
Though Proxy Server is a very useful tool and can help you to hide your presence and surf through restricted websites easily. Your identity is more secured with proxy server as no one could breach your personal data. Get your proxy server from Proxiesforrent today.